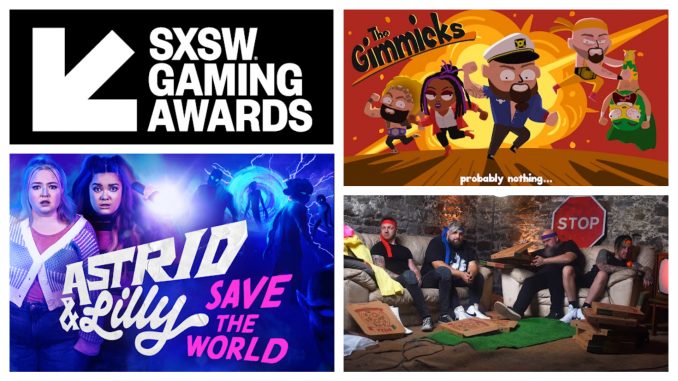 The South by Southwest® Gaming Awards (SXSW®), which takes place on March 12, 2022, recognizes the finest games and most creative individuals in the game industry. This week, SXSW announced that this year's virtual Ceremony will be co-hosted by Jana Morrison ("Astrid"; Dragalia Lost video game, voice talent, English version) and Samantha Aucoin ("Lilly"), the heroic leads of Astrid & Lilly Save the World, SYFY network's new, critically acclaimed series.
In addition, a diverse roster of presenters from entertainment and sports has been assembled (see below), as well as some special partnerships and premiere content set to shape this ninth annual gaming industry celebration into a distinct, must-stream awards-season event. The event will be produced by Georgia-based Peach Maria Productions (pronounced muh-RY-uh) and executive produced by Laurie Lockliear (upcoming esports reality competition series GameMaster). This year the awards will stream for free as part of SXSW Online on March 12, 2022, at 7 p.m. CT.
In terms of content, this year's Ceremony will feature a first-ever integrated animated narrative, produced by Web3 animation studio, Toonstar (The Gimmicks, the first community-driven animated NFT series), in partnership with 6th Wall, the Web3 arm of Mila Kunis' Orchard Farm Productions (Stoner Cats), Featuring a signature quirky, expressive and fast-paced animation style, these NFT animated characters and their friends set on a misguided adventure to this year's SXSW Gaming Awards and beyond. See "The Gimmicks Road to SXSW" teaser clip HERE. In addition, viewers of this year's Ceremony on March 12 will have special access to an exclusive offer from The Gimmicks
Plus, TIk Tok sensation, pop punk band Punk Rock Factory (YouTube; Disney's "We Don't Talk About Bruno" cover) has written a new song, with its wet-and-wild video making its world premiere during the show. According to the South Wales-based band, they "rehearse, write, record, mix, master and film everything themselves in one dedicated space affectionately called The Sausage Factory and frequently bring friends along to enjoy the fun."

The presenters reflect the most dynamic talent, executives and storytellers across the film/TV/music/gaming industry and sports, and represent some of the most distinctive and acclaimed projects in entertainment.
SXSW Gaming Award Presenters and Talent include:
As previously announced live on G4TV's XPlay, leading nominees include: "Kena: Bridge of Spirits," from developer and publisher Ember Lab, scored four nominations. Five titles – "Deathloop," "Inscryption," "Final Fantasy XIV: Endwalker," "Forza Horizon 5" and "Ratchet & Clank: Rift Apart" – each took three nominations.
Additionally, 12 titles received two nominations each, including "Before Your Eyes," "Chicory: A Colorful Tale," "Hell Let Loose," "It Takes Two," "Loop Hero," "Lost Words: Beyond the Page,""Resident Evil Village," "Returnal," "The Medium," "The Wild At Heart," "Unpacking" and "Valheim."
Each year the SXSW Gaming Awards honor excellence throughout the industry, celebrating the talent that influences the medium and culture of gaming. The annual Gaming Awards celebrate the technical, artistic and design achievements of each year's best titles and their creators.
After a rigorous process of nominee selections, this year's SXSW Gaming Awards feature 40 unique games contending for honors in 12 categories. See full list of SXSW Gaming Awards nominees here.
Several platforms will be integrated to create the SXSW 2022 experience across web, mobile and TV. A dedicated SXSW TV app can be accessed via Apple TV, Roku, Fire TV, and Android TV. In addition, SXSW TV is now available on iOS and Android. Additional live content, including Keynotes, Featured Sessions and Music Showcases, can be found in each of the 24-hour channels, during the SXSW 2022 event dates (March 11-20, 2022).
For more information about the SXSW Gaming Awards please visit: https://www.sxsw.com/awards/gaming-awards/. To learn more or to attend SXSW 2022 please visit: https://www.sxsw.com/.
###
Source: SXSW, syfy, JANA MORRISON, SAMANTHA AUCOIN, Punk Rock Factory, Michael Anthony, G4TV, Kadeem Hardison, ESL Gaming, Ramon Hermann, Maria Ho, G4TV, Ryan Johnson, Doug Jones, Ivan Mbakop, Mercedes-AMG Petronas Esports Team, Taybor Pepper, Corey Reynolds, Cory Strassburger, Stephanie Sheh, Alan Tudyk, Butterbean & Larry Holmes