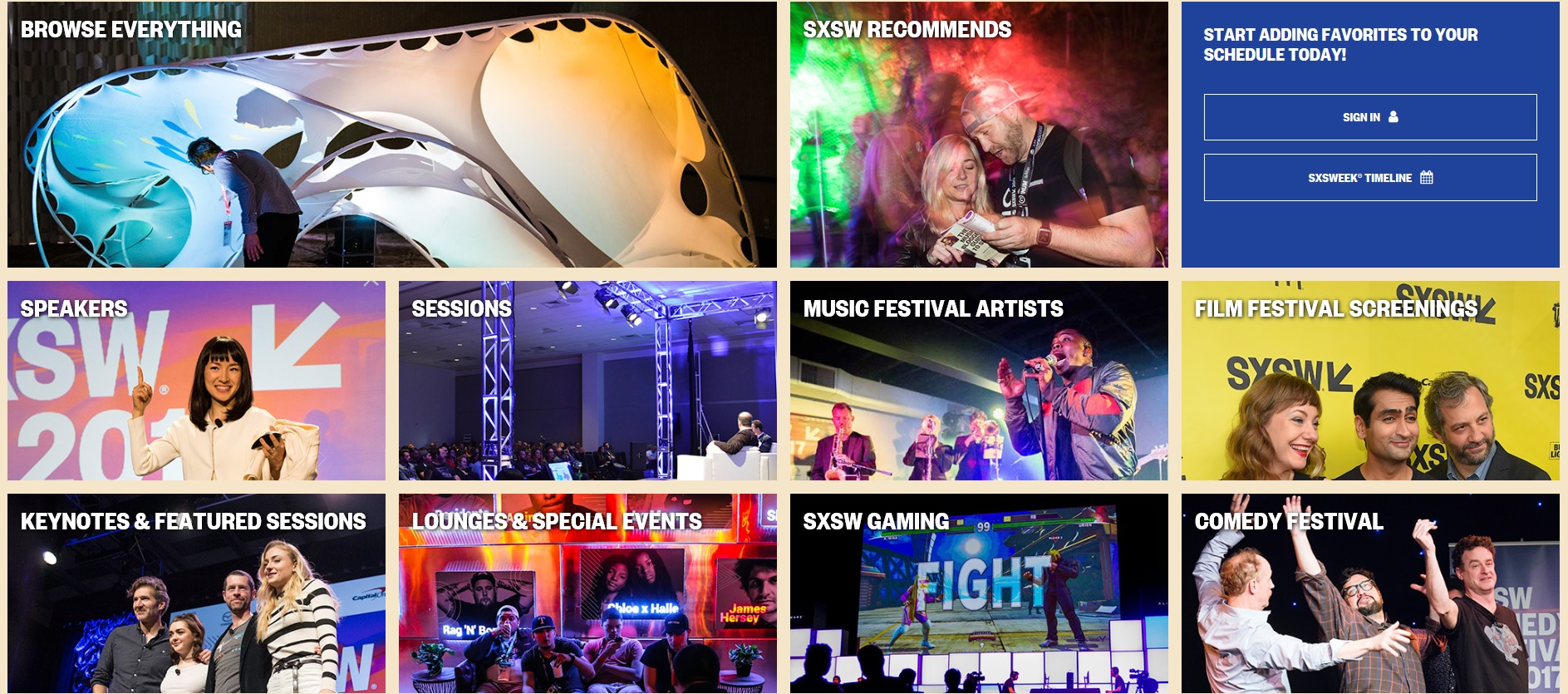 I'm excited to report that I got my South By Southwest (SXSW) Interactive Press Pass to cover the festival here on ground zero and in my hometown, AUSTIN! There have been so many new updates and though January is coming to an end the SXSW 2018 roster of talent added to the festival continues to grow. Check out all the recent new additions and updates for SXSW 2018 also note to register to attend SXSW 2018 before Friday, February 9th to save on the walk-up rate.
Internationally renowned chef José Andrés
Apple's Senior Vice President of Internet Software and Services Eddy Cue
Award-winning actress, writer, and director Lena Dunham
Actor and writer Ethan Hawke
Star Wars VIII: The Last Jedi director Rian Johnson
Entrepreneur and model Karlie Kloss
Waymo CEO John Krafcik
Oscar-winning director, writer, and producer Spike Lee
Activist and technologist Chelsea Manning
Executive editor of Recode Kara Swisher
Westworld cast members Evan Rachel Wood, James Marsden, and Jeffrey Wright
YouTube CEO Susan Wojcicki
To view all the Featured Speakers for SXSW 2018 click here.
Showcasing Artists added this week:
New 2018 Showcasing Artist Additions:
The Academic (Mullingar IRELAND)
Acid House Ragas (Montreal CANADA)
Belako (Mungia SPAIN)
Bishop Gunn (Natchez MS)
Black Guayaba (San Juan PR)
Blonde Maze (New York NY)
Breakout (Austin TX)
Brother Dege (New Orleans LA)
Candy West (Dallas TX)
Ceramic Animal (Philadelphia PA)
Chastity (Whitby CANADA)
CLARA-NOVA (Los Angeles CA)
Courtney Farren (Brooklyn NY)
Creamer (Nashville TN)
David Barbe and Inward Dream Ebb (Athens GA)
Dayne Alexander (Chicago IL)
Dentist (Asbury Park NJ)
DJ Ace (London UK-ENGLAND)
DJ Baby Roo (Houston TX)
DJ Hella Yella (Austin TX)
DJHerShe (Boston MA)
Doeman (Houston TX)
Dominican Jay (Austin TX)
Dramatic Lovers (Milwaukee WI)
DVWEZ (Orlando FL)
EDF (Houston TX)
Emily Wolfe (Austin TX)
Eric Tessmer (Austin TX)
Ethan Kent (Dallas TX)
EZI (New York NY)
Fat Tony (Houston TX)
Fire From The Gods (Austin TX)
Florian Kupfer (Berlin GERMANY)
Francine Thirteen (Dallas TX)
Genesis Blu (Houston TX)
Gold Casio (Portland OR)
Grace Vonderkuhn (Wilmington DE)
Grand Rapids Soul Club (Grand Rapids MI)
Half Stack (Oakland CA)
Haunted Summer (Highland Park CA)
Hayley Coupon (New York NY)
HNRY FLWR (Brooklyn NY)
Hoodlem (Melbourne AUSTRALIA)
Ida Mae (Norwich UK-ENGLAND)
Idk Ariel (Bergen NORWAY)
Izzie Gibbs (London UK-ENGLAND)
Jackie Mendoza (San Diego CA)
Jackie Venson (Austin TX)
Janiva Magness (Detroit MI)
Jason James (Texas City TX)
Kaela Sinclair (Los Angeles CA)
Kara Nichole-Robinson (San Antonio TX)
Kayla Freeman (Austin TX)
Kelela (Washington DC)
King Tucka (Austin TX)
Kitten (Brooklyn NY)
Kotomi (Long Beach CA)
KP Tha Profit (San Antonio TX)
Kyle Craft (Portland OR)
Ley Line (Austin TX)
LIFE (Sheffield UK-ENGLAND)
Linda Lee (Berlin GERMANY)
Little Destroyer (Vancouver CANADA)
Livingmore (Los Angeles CA)
Lord Buffalo (Austin TX)
Los Coast (Austin TX)
The Lulls (San Diego CA)
Many Rooms (Houston TX)
Margaret Chavez (Austin TX)
Masha (Belgrade SERBIA)
Memories In Broken Glass (San Antonio TX)
Monoplasma (Los Angeles CA)
Moonrise Nation (Chicago IL)
Motorcade (Dallas TX)
Moxizishi & Jikehabu & 3He Project (Beijing CHINA)
Mozes and the Firstborn (Eindhoven NETHERLANDS)
Mr. Frankie Wilson (Dallas TX)
Neil Frances (Los Angeles CA)
Ness Nite (Minneapolis MN)
Odetta Hartman (Washington DC)
OHMME (Chicago IL)
Oh, Rose (Olympia WA)
Passeport (Cincinnati OH)
Renata Zeiguer (Brooklyn NY)
Ryan Culwell (Nashville TN)
SassyBlack (Seattle WA)
Second Hand Rose (Beijing CHINA)
Señor Loop (Panama City PANAMA)
Shelita Burke (Los Angeles CA)
Shy Speaks (Dallas TX)
Simon Grossmann (Miami FL)
Skratch Bastid (Toronto CANADA)
Sons Of The East (Sydney AUSTRALIA)
Starcrawler (Los Angeles CA)
Stove (Newtown CT)
Stuyedeyed (Brooklyn NY)
Subhi (Chicago IL)
Sun June (Austin TX)
Teddy and The Rough Riders (Nashville TN)
The Fam (Dallas TX)
Todd Rundgren (Los Angeles CA)
Tomar and the FCs (Austin TX)
Tyro The Epic (Dallas TX)
Valvai (Santiago CHILE)
Vanilla Summit (Richmond VA)
Warren Wolfe (Sinking Spring PA)
Worldwide (San Antonio TX)
Xiaoxia & Mr. Asbo & Soulspeak (Beijing CHINA)
The Yellow-Bellied Sapsuckers (Soldiers Grove WI)
Yori Swart (Amsterdam NETHERLANDS)
Young & Sick (Los Angeles CA)
Register for the SXSW Music Badge here. Also check out the SXSWfm Specialty Show and Spotify Weekly Round-up playlist to discover artists from this announcement from SXSW. For more information about SXSW please visit: www.sxsw.com
###
Source: SXSW