This week, DeepOptics, the inventor and pioneer of a novel adaptive lens technology, kicked off its new product 32°N, the first and only adaptive focus sunglasses, on Kickstarter. Pronounced 32 North, the sunglasses enable a number of different reading prescriptions with a single pair of glasses.
Designed to function like sunglasses, 32°N can dynamically correct for reading and mimic natural human vision. The sunglasses allows users to seamlessly switch between "reading mode" for near vision and "scenic mode" for far distances.
32°N addresses the needs of people experiencing presbyopia, the age-related reduction in near vision, instead of having to switch between sunglasses and reading glasses and without the difficult compromises of progressive lenses and bifocals.
Capable of rotation at every point of the panel, the 32°N sunglasses feature pixelated liquid crystal (LC) layers that are split into tiny pixels. When the user swipes, they activate the tiny processor embedded in the glasses' temple. The processor calculates the user's personal data and sends that data to form the desired lens prescription.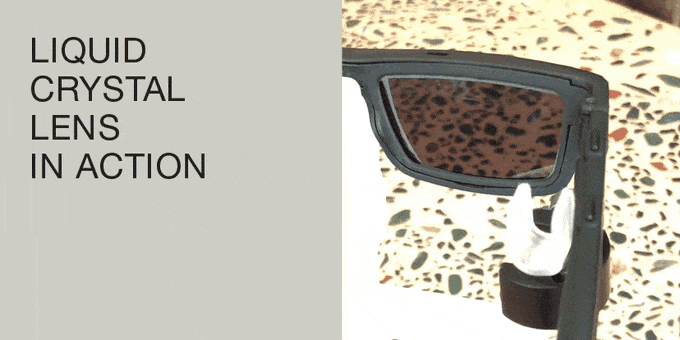 Millions of tiny pixels inside the lens change their electrical state according to the new data to form the lens and bring the close object into focus. Completely silent, and without any extra weight or moving parts, DeepOptics' LC lens enables an unlimited number of dynamic, high-quality lenses that can be changed at any moment.
Similar to mobile phones or Bluetooth earbuds, each full charge of 32°N lasts for a full day. Unlike competing solutions, 32°N doesn't require any adaptation period.
While 32°N is designed to fit everyone, it comes with an app to help you make it 100% personalizable. When you get your pair, you'll be able to download the app to your iOS or Android phone and start your journey with a quick and simple guided setup.
The app will pair your phone with your new 32°N glasses, determine and set the active lenses centers that fit you. After the setup, 32°N works completely independently. In just a minute or two, you will be off and running (or reading, hiking or biking)
32°N sunglasses come in black, caramel and tortoise. The 32°N sunglasses Kickstarter early bird special is $229.00 with the estimated shipping date range of April 2022. To back 32°N Kickstarter campaign please visit: https://www.kickstarter.com/projects/deepoptics/32n-glasses-that-adapt-to-you.
###
Source: DeepOptics, Kickstarter