In Fall of 2019, VICTOR LI launched his first menswear collection named the "best collection" by Forbes magazine and in December of 2020, he was a menswear finalist in the Fashion Group International Rising Star Awards. For the VICTOR LI FW21 "A Suspension of Time" collection, Victor's travels remain the source of inspiration. Also new for Fall/Winter 2021, Victor Li debuts his first women's collection.
"After a revisit of the achingly beautiful film Brokeback Mountain, the sustained melancholy evoked a desire in me to experience Wyoming's picturesque mountains and plains. I took a road trip through Wyoming's vast and still life setting, into the idyllic yet lonesome, mountains. Red dust trails paved the paths in the rearview mirror, burnt orange cliffs emerged and passed by the car window, and the lonely sky cast an ethereal shadow, draping over the majestic mountains that filled my peripheral vision. The scenery inspired the perfect photograph that I could only capture with my eyes and store in my memories," said Victor Li.
With the collection, landscapes are reimagined onto fabrics: washed denim mimics the erosion of granite and sand that is layered with colors that reflect the plunge of clear water. Motifs from vintage postcards collected along the way, and interspersed into the overall collection inspiration, as well. Silhouettes are loose and free but with elements of strong tailoring.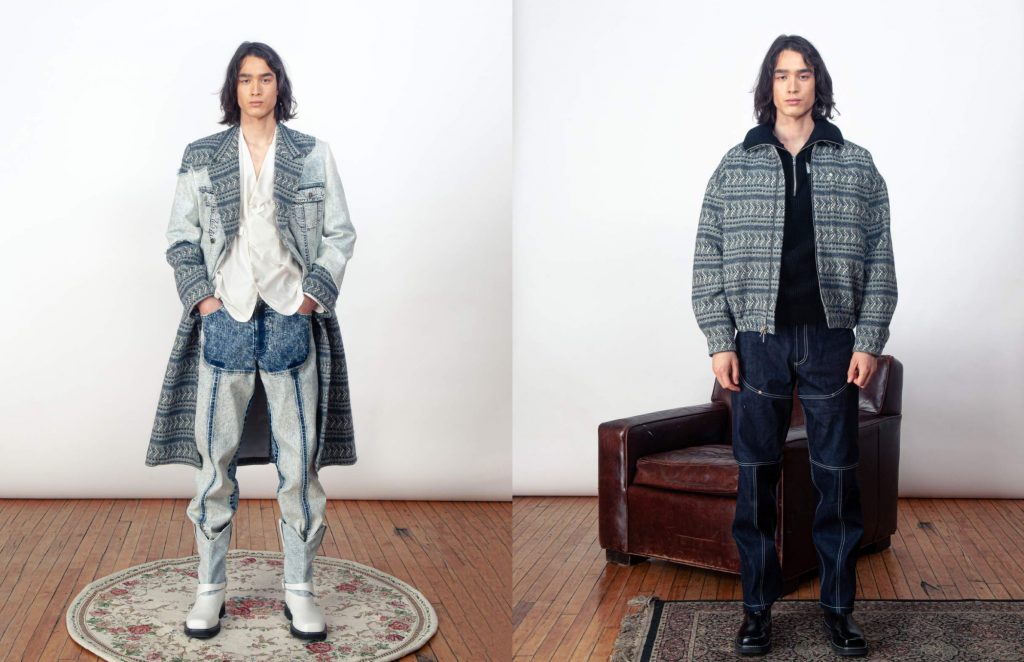 Denim has a strong presence throughout the collection, a durable yet versatile fabric that delivers its functionality and style throughout decades. The denim appears in different forms including raw, tie-dyed, and printed, and is accompanied by a liberal use of plaid and patterns throughout the collection. The collection highlights an interpretation of life once had on a western ranch, now found in a suspension of time.
In Victor Li's first women's collection for Fall/Winter 2021, cropped blazers for women are cut close to the body and wrapped around the waist, finished with asymmetrical closures.
Jeans borrow silhouettes from the men's styles for a rugged and casual look. The seasonal postcard print transfers from the men's collection to a blazer-on-skirt look. Accessories, while informal, are vibrant.
Western-inspired bolo ties are renewed with vegan leather cords and polished metal concho. To round out looks, the Saddle bag, as its name suggests, takes inspiration from a horse riding trail bag, and the Tool bag, complete with a buckle fastener, is made to wear across the body or on the waist. Finally, cowboy boots are introduced in a denim-leather combo as well as the classic polished black leather, finished with spur strap details.
To shop the new collections please visit: SHOPVICTORLI.COM.
###
Source: Victor Li