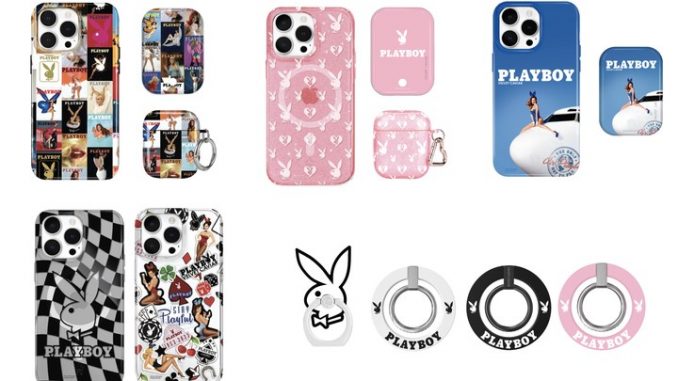 Velvet Caviar, the female-founded tech accessory brand, and Playboy, the global lifestyle brand, partner in a new Limited-Edition phone cases and accessories line. Not only will the limited-edition Playboy x Velvet Caviar Capsule Collection features five unique phone cases, it will also include a variety of accessories including a special wireless charging pack. The collection is available for purchase exclusively on VelvetCaviar.com.
"I wanted to capture the playful essence of the brand with images pulled straight from the pages of vintage Playboy magazines" said Michelle Aran, Founder & CEO of Velvet Caviar. "Playboy has always represented fun, freedom, and not having to conform to what women in my culture are "supposed" to be doing. Playboy taught me to be more carefree and spontaneous, to travel, and to live my life to the fullest. This collection was especially inspired by my own wanderlust and love for exploring."
By combining design and innovation, Velvet Caviar offers a fresh selection of new releases with dependable quality and protection. The Playboy x Velvet Caviar cases were reimagined with a nod to classic Playboy covers and eye-catching patterns featuring the iconic Playboy logo.
The Playboy x Velvet Caviar Capsule Collection will range from a Stick-on Grip for $12.00, Magnetic Phone Grips (compatible with MagSafe) for $25.00, AirPod Cases for $30.00, Battery Packs for $80.00 and phone cases for iPhone & Samsung phones for $45.00.
For more information visit https://velvetcaviar.com/.
About Velvet Caviar:
Velvet Caviar launched in February of 2014 from the founder Michelle Aran's bedroom in NYC, coining the phrase "Pretty Yet Protective" as the tagline. Within months, the brand became a viral sensation across social media as people everywhere fell in love with their never-before-seen phone cases. Since then, they have grown into an amazing team based in Brooklyn, NY where they work consistently to release new styles and drops every month of phone cases & accessories such as phone grips, charms, air pod cases, battery packs and so much more! The brand is proud to share their passion with over 1 million customers along with dozens of retail partners worldwide.
###
Source: Velvet Caviar, Playboy