I love the holidays especially all the fun cocktail parties but they can be stressful especially if you are hosting the party or attending a formal event. Never fear ladies, there is a new app that can help you get beautified for any of your holiday events.
Launched originally in Las Vegas, the celeb favorited beauty app beGlammed brings the industries top make-up artists and hairstylist's right to your doorstep with the touch of a button at an affordable price (rates beginning at $65). That's right ladies you didn't misread that, they actually go to your front door step!
Created by business and beauty veteran Maile Pacheco, who has worked with A-listers such as Elton John, Celine Dion and Mariah Carey, Pacheco developed the app to help girls on-the-go who don't have time to stop at the salon to get the VIP experience in the comfort of their own home, office, or hotel room. *
The beGlammed app is available for download at the Google Play or Apple app store. The app was pretty easy to install, it's free and you can use your Facebook login to get started! Once I chose my city I was directed to the home page where you pick your glamour needs. beGlammed offers services ranging from makeup touch-ups, blow outs, up-do's, group and bridal glam packages.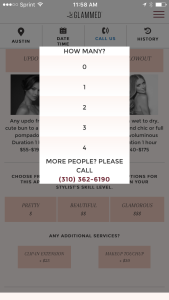 I haven't booked an appointment yet just took a little tour of all the options you have with the beGlammed app. I think some of the cool features are that they come to you, you can book appoints for you and your friends (perfect for a b-day gift) and they service different cities which is great for those like me who travel allot for work.  Currently beGlammed is available in Austin, Dallas/Fort Worth, Houston, Las Vegas, Los Angeles, Miami, NYC, Orange County, Phoenix, San Diego and San Francisco.
The beGlammed app is perfect for the holiday season or for those always on the go! I will definitely be trying this out during the holiday season.
*Information provided by Fingerprint Communications