Fans of The Rolling Stones will be fired up by lifestyle and athletic footwear, Skechers and global music merchandise company, Bravado, new sneaker collaboration. The new Skechers x The Rolling Stones collection, just launched, features the band's trademark tongue logo on a unique collection of Skechers sneakers for women and men.
The Skechers x The Rolling Stones collection includes the modern Skechers Uno, as well as canvas slip-on, lug and cup sole designs. Individual designs include Rolling Stones: Roadies Surge, Rolling Stones: Marley, MN x Rolling Stones: Palmilla – RS Marquee, Rolling Stones: Uno – Rolling Stones Single!, Rolling Stones: Classic Cup – Euro Lick, Rolling Stones: Uno – Say It Loud and Rolling Stones: Classic Cup – Stones Invasion.
"We love partnering with brands that offer great product and giving our fans something new they can enjoy," said The Rolling Stones. "And Skechers is the one to wear for anyone who wants style and the most incredible comfort."
"For six decades, the Stones have endured like no other—rebelling, conquering and being listened to by billions. Nearly every adult on this planet knows their iconic logo," said Michael Greenberg, president of Skechers. "Skechers x The Rolling Stones styles are the ultimate band merch from one of the biggest names in rock!"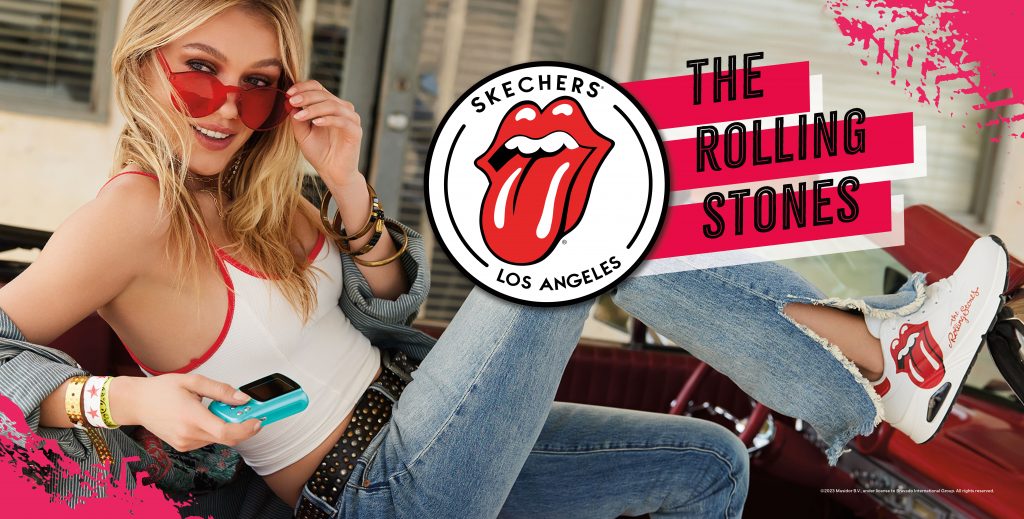 Skechers x The Rolling Stones is available at skechers.com and select Skechers retail stores throughout the US and globe. 
Link to The Rolling Stones homepage on Skechers.com will be found here: https://bit.ly/SKECHERS-Rolling-Stones
About SKECHERS U.S.A., Inc.
Skechers U.S.A., Inc., a Fortune 500® company based in Southern California, designs, develops and markets a diverse range of lifestyle and performance footwear, apparel and accessories for men, women and children. Collections from The Comfort Technology Company™ are available in over 180 countries and territories through department and specialty stores, and direct to consumers through digital stores and over 4,500 Company- and third-party-owned physical retail stores. For more information, please visit about.skechers.com.
ABOUT BRAVADO
Bravado lives at the crossroads of music, fashion and culture. They understand the power of smart merchandising, and they know how to create products that spark organic, emotional connections between fans and artists. With teams in 40 countries, they create a tailored approach for every project — from creating new spaces in the market to bringing an artist's creative vision to life. Bravado is about building brands and legacies that live on, beyond the music.
###
Source: Sketchers, Bravado, The Rolling Stones