During Paraiso Miami Swim Week, the swimwear designer known for her commitment to sustainability with her creations of innovative plant-based swimwear, Natasha Tonic, unveiled her latest collection, "Coral City." Tonic collaborated with Coral Morphologic, a Miami-based pioneer in the study and conservation of coral reefs, for the coral-inspired swimwear to generate awareness of the dangers facing coral reefs worldwide.
Inspired by Coral Morphologic's scientific research, the "Coral City" collection featured a stunning array of one-piece swimsuits and bikinis adorned with intricate coral prints and textures. Each piece explores the beauty and complexity of coral reefs with prints taken from real corals grown in Coral Morphologic's lab. Dominant colors such as electric green, coral orange, white coral, and Pacific blue were used to simulate the living and endangered corals found in reefs off Miami's coastlines.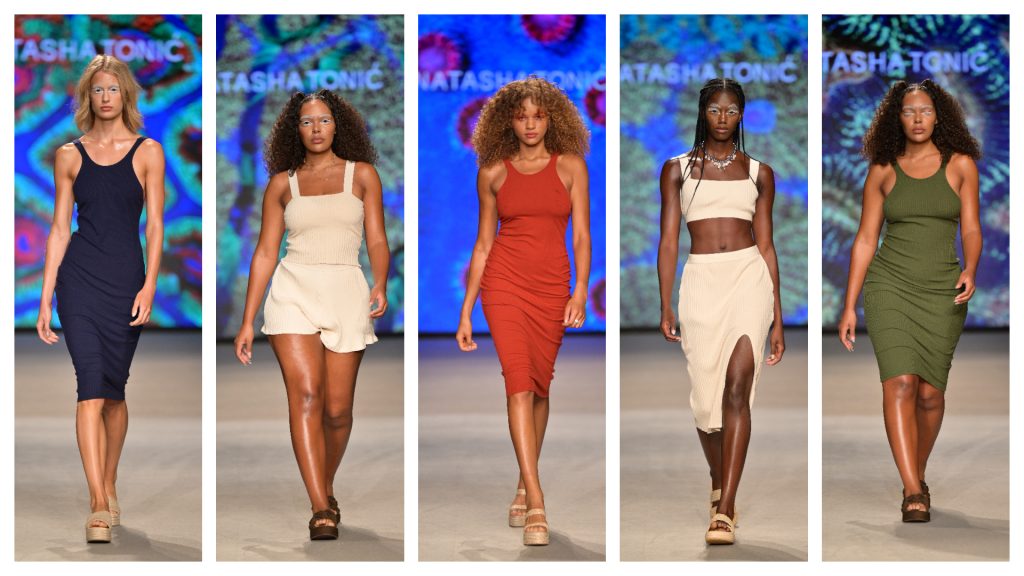 Natasha used breathable hemp fabric in every piece she created to further minimize environmental impact, embracing the use of natural, plant-based materials. Each look was paired with a piece from Tonic's new jewelry line, a special collaboration with designer Tiffany Kunz. Just like the garments, these exquisite pieces draw inspiration from the ocean reefs with meticulously crafted chokers featuring hand-sculpted coral forms and delicate pearls, capturing the essence of the sea. To further compliment the collection, Tonic debuted a variety of lightweight shrugs and long gloves which lend a modern touch and serve as a natural shield against the suns' harmful rays.
Tonic has pledged to donate 10% of the collection's proceeds to Coral Morphologic and another 10% to the Indonesian non-profit Ocean Gardener, an organization in Bali that has developed a restoration technique to aid damaged reefs without the use of plastics. Inspired by their revolutionary efforts, Tonic is taking her commitment one step further by working with the organization to plant one coral for every swimsuit sold, breathing new life into these delicate ecosystems.
With each piece of the collection serving as an opportunity to lend support, jewelry partner Tiffany Kunz will also donate 10% of proceeds to non-profit organizations in Costa Rica that focus on transporting recovered corals to their natural habitats. Tonic's collaboration with the organization focused on the importance of protecting coral reefs and their ecosystems, fostering a symbiotic relationship between fashion and the environment.
The "Coral City" collection at Paraiso Miami Swim Week 2023 featured lively prints, stunning colors, and innovative designs that captured the attention of the fashion experts. The ethically-made collection serves as one of many reasons Natasha has been recognized as Sports Illustrated's 2023 Sustainable Swimsuit Designer of The Year.
The coral city collection and accessories are now available to shop online at www.natashatonic.com.
About Natasha Tonic
Natasha Tonić is a pioneer in the plant-based swimwear movement. In 2017, she began raising awareness about microfiber pollution and the detrimental effects of petroleum-based fabrics like polyester, nylon, and polyamide on the environment. Despite initial resistance, her message gained traction, and major eco-friendly influencers like Venetia La Mana and the Stories Behind Things began supporting her cause. Today, plant-based swimwear has become an industry standard, and Natasha has inspired fabric producers to look beyond traditional materials. Her message is clear: if we don't address the problem of microfiber pollution now, it could have dire consequences for our health and the environment in the future.
About Coral Morphologic
Coral Morphologic is a Miami-based company that studies and preserves coral reefs through art and science. Their work has been featured in major museums and exhibitions worldwide, and their research has contributed to a greater understanding of coral reef ecosystems.
About Ocean Gardner
Ocean Gardener is an NGO based in Bali Indonesia dedicated to coral reef education and coral reef restoration. Since 2016 the organization has planted over 50,000 coral fragments and counting back to the reef.
###
Source: Natasha Tonic, Miami Swim Week, Ocean Gardener, Coral Morphologic