Debuting at the SXSW 2021 Film Festival, Introducing, Selma Blair, is an up-close and authentic depiction of her life after got she is diagnosed with Multiple Sclerosis while trying to slow the progression of her disease through a stem cell transplant. Selma Blair, the infamous American actress with over 25 years of an acting career, in August 2018 revealed her diagnosis of Multiple Sclerosis (MS).
The documentary shows her pursuit to take her personal health under control and adapt to new way of life with MS. Throughout the film there are medical definitions/ descriptions about MS the first being at the beginning, "MS is an autoimmune disease that attacks the spinal cord and brain. Symptoms are different for everyone. There is no cure for MS."
The film starts with Selma getting ready, showing her daily struggles but also her humor while putting on her turban and comically applying KKW beauty products. You are also introduced to her comedy relief of tiny rubber hands that make an ongoing apparent in the film and which apparently, she got slammed for making fun of handicap people. WHAT?!
With Selma's cell phone diaries, you get a feel of what a day in the life of Selma Blair, an actress known for her strong personality, work ethic and amazing talent from the mid-90's to present day, now struggling with just walking up the stairs. She also pushes people away, not because she doesn't want to see them but how they will react or perceive her.
You also learn throughout the film that when "stimulus" increases for Selma, it triggers her MS throughout different situations. Stimulus is anything that can trigger a physical or behavioral change.
Sadly it wasn't until October 2018, when Selma revealed to the public via Instagram she was diagnosed with MS after many years of uncertainty of not knowing what was wrong.
"I am disabled. I fall sometimes. I drop things. My memory is foggy. My left side is asking for directions from a broken GPS but I hope to give some hope to others and even to myself. It can be overwhelming at the beginning you want to sleep; you always want to sleep so I don't have answers you see I want to sleep. I have MS and I am OK but if you see me dropping crap all over the street feel free to help me pick it up, it takes me a whole day for me alone."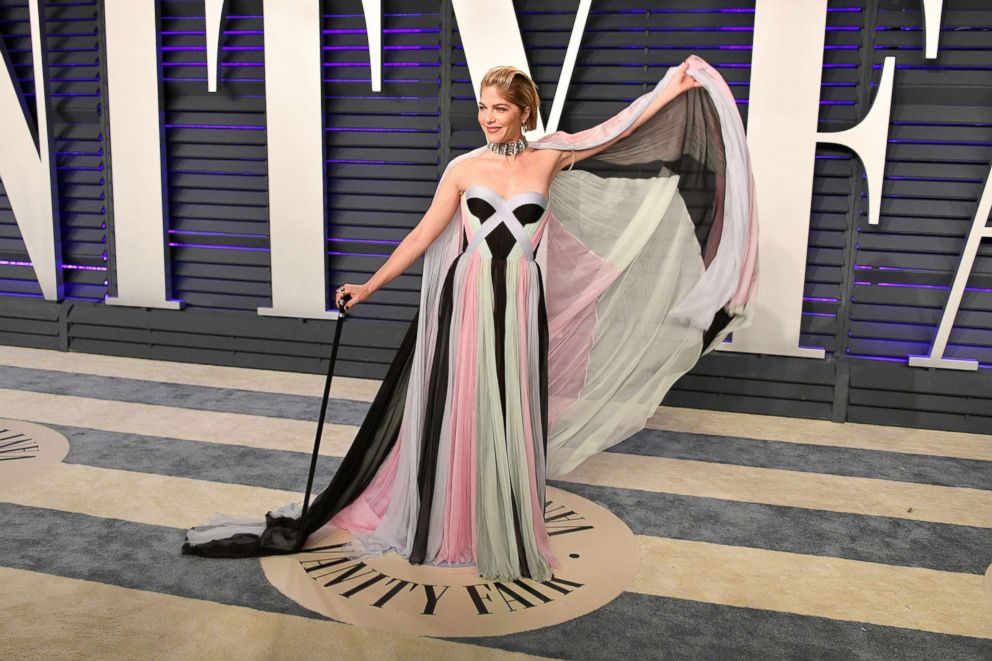 In the film, you relive that legendary moment when Selma bravely made her first appearance, walking the red carpet with MS, at the Vanity Fair Oscar Party in February 2019. Though she did shed a tear, increased stimulus and experienced major fatigue, she showed the world her strength walking beautifully with her cane down the carpet.
Throughout the film you have a great understanding of her immense love for her son Arthur and her fight to get healthy for him. Selma decides to look into stem cell transplant, after friend, Jennifer Gray, recommends a doctor and in June 2019, she travels to Northwestern in Chicago to begin the process. During this time her son had to go stay with his father but not before helping Selma shave her head before the chemo begins.
Preliminary Chemotherapy
"Prior to stem cell transplant, patients undergo a rigorous evaluation to determine whether they meet the criteria for the procedure. The treatment can only be administered if the patient is off all MS drugs. And their symptoms have no progressed." Selma gets approved for treatment.
"Since 1995, 3000 patients with autoimmune diseased have been treated with stem cell transplant. 83% of MS patients have had no evidence of disease activity (NEDA) 2 years after treatment. 76% of MS patients had NEDA 5 years after treatment. During the earliest days of trials, the mortality rate was 7.3%."
Selma continues through the treatments and mobilization steps till the day she is ready to through stem cell harvest.
Stem Cell Harvest
"Stem cells are used to replace cells and tissues that have been damaged or lost due to disease. Stem cells will transform into immune cells if there is a deficiency in the body"
It was during the stem cell harvest when Selma experiences major complications that included lose of vision, feeling inmobile, and couldn't breathe among other obstacles. She eventually had a brush with death, but overcomes it, fighting for her son Arthur.
Conditioning (5 days of intensive chemotherapy)
Selma's Hospital isolation begins for 2.5 weeks where she is basically in a bubble with no contact. For the next 5 days Selma is in a great deal of pain, you can't help but to cry with her.
Stem Cell Transplant
The day of the stem cell transplant, Selma gets a lovely prayer and song "This is the day that the lord has made," before she goes in. You also see the preliminary process (not the full process) of what goes into a stem cell transplant. Her next step was
Engraftment
"Engraftment is when transplanted stem cells enter the blood, make their way to the bone marrow and start making new blood cells."
In this process, Selma waits in isolation for her immune system to recover all while entertaining herself and the hospital staff with her tiny rubber hands. After 19 days of isolation at the hospital, Selma is discharged HOME!
In October 2019, 11 weeks after transplant Selma seems upset that she's not fully back to normal thinking she would be 100% back to herself. Fortunately, 3 months after the transplant, Selma had a new MRI with positive results of no new lesions.
In March 2020, during the COVID-19 shut down, frustrated with her ongoing symptoms and fatigue, Selma saw a new doctor in LA, Dr. Regina Berkovich. Unfortunately, Berkovich informs Selma that she has damage to the gray matter of her brain which other doctors had not discussed. The gray matter affects muscle control, memory, emotions and speech.
Also, during the pandemic, Selma loses her mother, who was portrayed to be a very strong woman with little positive feedback given to Selma throughout her life.
Within the film, you feel empathy towards Selma's pain, self-isolation and obstacles she still faces daily with MS as she continues her journey to gain back control of her life and body with the disease.
She's now more at peace with her mother (leaving her late mother funny voicemails), her disease and her journey.
The movie ends with Selma taking a drive into her backyard pool swimming in a dress of her late mom's that she never got to wear till her death. To me, this expressed some sort of freedom and hope.
This film shows Selma, authentically going through what a patient of MS goes through daily with the highs and lows, loneliness, immense pain and hope. Throughout the film, though heartbreaking at times, her charm and comedic personality shine through the torment of battling MS.
Credits:
Cast: Selma Blair
Director: Rachel Fleit
Executive Producer: Cass Bird
Producer: Mickey Liddell, Pete Shilaimon, Troy Nankin
Cinematographer: Shane Sigler
Editor: Sloane Klevin
For more information about this film at SXSW please visit: https://www.sxsw.com/film/2021/2021-sxsw-film-festival-lineup-announced-features-shorts-episodics-more/#. To learn more about SXSW please visit: www.sxsw.com.