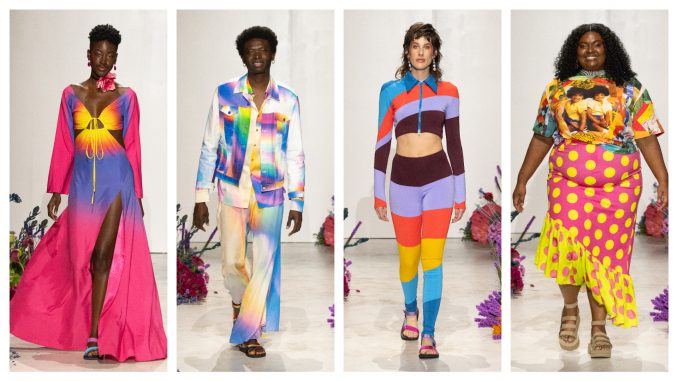 During LA Fashion Week (LAFW) Bruce and Glen Proctor, identical twins and fashion designers, presented their BruceGlen Spring/Summer 2024 collection at Nya Studios in Hollywood, CA.  The Spring/Summer 2024 collection showcased a captivating blend of vibrant hues, mixed patterns, and prominent metal accents, offering both stylish apparel and accessories. Staying true to the brand's mantra, it exuded a bold and dynamic character that sparked engaging conversations.
For this collection, BruceGlen brings their fresh take on what the future holds to this year's LAFW. With a turbulent past, a dreamy, romantic future is imminent, all about exploration, wonderment and discovery. This season feels hopeful and full of expectation.
Per the designer brothers, visual representation also comes hope being represented through the image of the rainbow, as rainbows appear in the clouds. When the brightness of the sun is covered, beauty can still appear in the midst, stirring anticipation for brighter days.
All fabrics used are organic and include an airy silk charmeuse, bamboo cotton, biodegradable Cupro twill, and stretch denim. 70% of the collection is sustainably produced in the Dominican Republic. Their printing process has no water wastage as it is always the same recycled water uses.
They use 90% less ink than normal printing practices and 50% less electricity. Production sewers are paid a fair wage and the carbon footprint is extremely low as everything is done under one roof. Pieces are also only produced on a made-to-order basis unless there is a wholesale order request.
"Spring '24, we have become aware of the unique beauty in everything, everyone, every moment, every up and every down. No longer bogged down by the weight of the past or anxious about what the future does or does not hold, we are fully embracing the here and now…taking care to smile as we wait for dreams to blossom in the garden of life."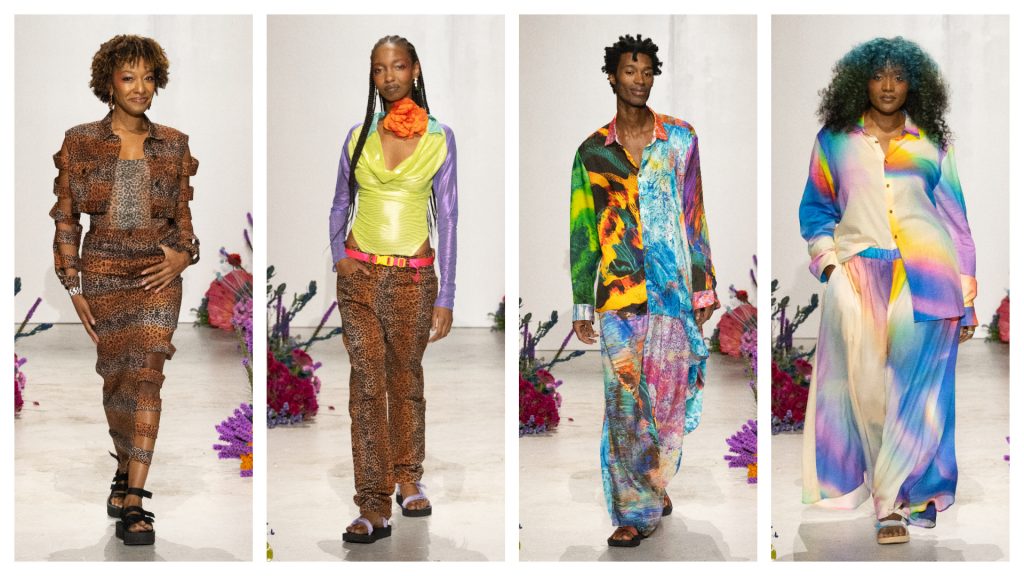 To learn more about BruceGlen please visit https://bruceglen.com/.
About BruceGlen
Bruce and Glen Proctor are identical twins, Fashion Designers and Ministers at The Church. earning the name, The Fashion Preachers. Their New York fashion adventure began when they were forced to drop out of school because of financial difficulties. That Summer, they interned for Beyonce's House of Dereon.  After fits and starts, including a lengthy career launching celebrity brands for Beyonce, Nicki Minaj, Trey Songz, Diddy and a life altering lay-off, they relaunched BruceGlen in 2019 with a focus on accessories. 
They've gone full-steam ahead expanding their bag collection and now producing sustainable clothing in partnreship with Resonance Brands. The collections are bold, conversational an electric! Color, metal hardware and mixed patterns are key for the brand!
###
Source: BruceGlen
Photography: Kohl Murdock @kohlmurdock, Serious People @serious__people