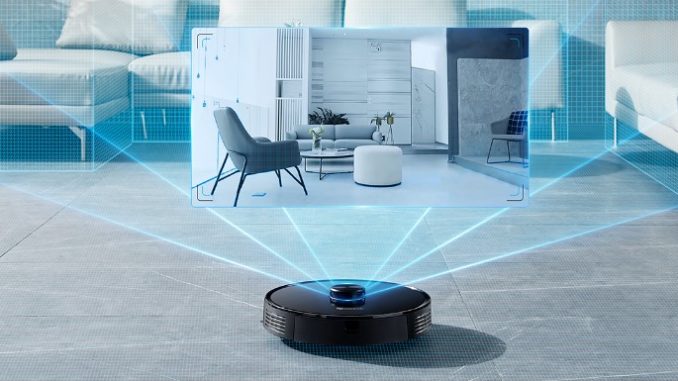 Proscenic, a Taiwan Smart home appliance manufacturer, today communicated the availability of its M8 3-in-1 smart robot vacuum cleaner that can both vacuum and mop floors simultaneously. The M8 provides an intuitive cleaning experience for the modern home with it's precision laser mapping technology and large suction power.
The M8 robot vacuum is equipped with a large suction power of 3000 Pa which provides a more efficient and thoroughly clean. The strong and powerful suction can prevent dirt, pet hair and debris from being left anywhere on the floor whilst vacuuming. As the M8 includes smart VBoost technology, the robot can automatically increase the suction power to the max when it detects that it has moved onto carpet from hard floor or tiles. This ensures that it can quickly eliminate dirt such as tea stains, coffee stains and biscuit crumbs when detected.
With the 280ml dust tank and 300ml water tank, the vacuum cleaner can both vacuum and mop simultaneously to save time and provide a fuller clean. Using a unique Y-shaped pattern on the floor with the mopping function, it allows a triple-pass mopping action to help clean the dirt thoroughly and efficiently.
The M8 features multiple cleaning modes with Auto Cleaning, Customised Cleaning and Spot Cleaning, so it can be used to vacuum the whole house or just one room that has had a spillage. The cleaning mode can be chosen through the Proscenic app.
Featuring the latest IPNAS 4.0 technology, the M8 adopts the 4th Generation Precision Laser Mapping and Navigation System which enables the robot vacuum to achieve 1.8 times higher accuracy of the mapping and navigation during a clean. This helps to increase the efficiency by up to 50% and, thanks to its ability to get over any obstacles up to 2cm, allows the M8 to clean the entire house without interruption. Using Multi-Layer Mapping and Memorising Technology ensures that the vacuum can intelligently recognize multiple floors and select the best route.
The Intelligent iRoom Cleaning System can divide rooms into different areas allowing the user to select up to 10 so each area can be cleaned individually, grouped together or put in a preferred order. The Proscenic M8 also allows the setting of virtual boundaries of up to 10 restricted areas so the robot can avoid both physical obstacles in its mapping as well as virtual custom set walls according to preferences. Also, it has a large 3200mAh battery that allows it to achieve a maximum runtime of 120 minutes under the silent mode.
Additionally, the robot vacuum cleaner and mop can be controlled through intelligent voice recognition with Google Assistant and Amazon Alexa by simply asking these voice assistants to begin the cleaning. Furthermore, its designed and optimized so that the wind tube has reduced wind resistance to keep the noise levels in your home lower than 60dB under the silent mode.
The Proscenic M8 is available from Amazon.com for $369. Currently, a $70 discount coupon is also available taking the cost down to $299.
About Proscenic:
Founded in 1998, PROSCENIC team is a comprehensive home appliance manufacturer integrating R&D, manufacturing, and sales. In the beginning, PROSCENIC mainly serves Japanese home appliance brands, such as Panasonic, Hitachi, Zojirushi, and Philips (focuses on OEM/ODM integration business of smart home appliances). Now, PROSCENIC has invested to develop more than 20 products including robot vacuum cleaners, cordless vacuum cleaners, air fryers, humidifiers, water flossers, and so on.
The company established branches in Japan, Germany, France, to build a solid foundation for the brand's localized marketing and after-sales service. Products are available in more than 60 countries and districts around the world. To learn more about Proscenic please visit: https://www.proscenic.com/.
###
Source: Proscenic