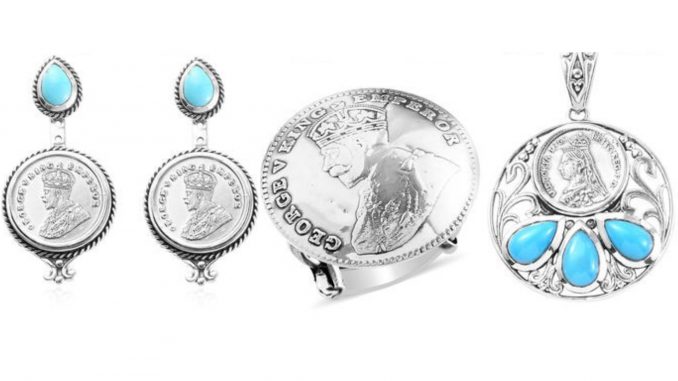 This spring, Shop LC, a value-conscious jewelry and lifestyle interactive retailer, launched a new limited edition coin jewelry collection now available exclusively on their site. The new coin jewelry features replica currency from India's storied past and manufactured exclusively for Shop LC by parent company Vaibhav Global Limited (VGL). Originally, minted during the early twentieth century, each coin is stamped with the profile of King George V or Queen Victoria of England.
Each piece is crafted in precious sterling silver, featuring minimalistic silver work complementing the design of the coins themselves. Finally, each piece is polished to a high gloss, capturing the spirit of the vintage jewelry which inspired the collection. Select pieces incorporate genuine gemstones like world-famous Sleeping Beauty Turquoise.
"Coin jewelry is simply amazing," explains Suraj Prasad, General Manager Jewelry Shop LC. "Producing coin jewelry lets us acknowledge our past, while transforming it into something beautiful and new. We are making this collection for those who love finding something lovely in all things – even everyday things like the coins we carry in our pockets."
"With interest in the Royal family and vintage jewelry at an all-time high, our hope is that our audience will find this coin jewelry collection as special as we did designing it for them. Coin jewelry is truly an exclusive collectible. Our coin jewelry is made from replica coins. It ensures a consistency of quality across the range while allowing us to keep prices competitive."
For every item sold, coin jewelry or otherwise, Shop LC provides a meal to child in need through Your Purchase Feeds. Since 2017, the Shop LC meal giving program has provided over 27 million meals to hungry kids in the United States and India. Your Purchase Feeds supports over 50,000 children daily.
View the limited-edition coin collection at web-exclusive-coin-jewelry (shoplc.com).
For more information about Shop LC, visit www.shoplc.com, download the app from the App Store or Google Play, or install the interactive TV app on Roku, Fire TV, or other platforms.
###
Source: Shop LC, Vaibhav Global Limited (VGL)