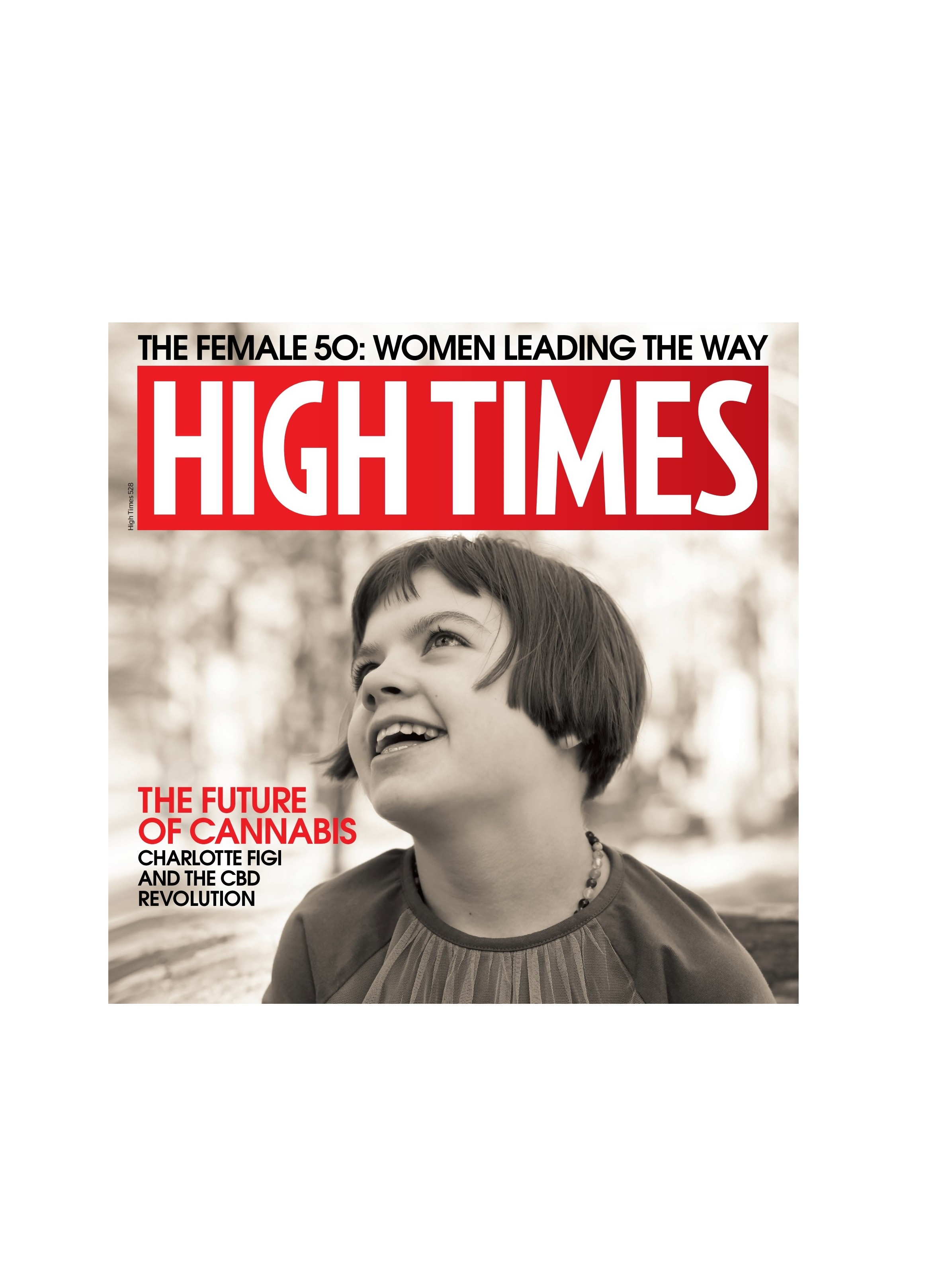 High Times today announced that for the first time, the magazine would feature a child on the cover as part of the Female 50 issue. The High Times cover will feature Charlotte Figi, the namesake of cannabis strain Charlotte's Web and the market pioneer and leader of hemp-based extract CBD products by the same name.
In addition to the cover story on November 13th, High Times will honor Paige Figi, the mother of Charlotte Figi, as part of its High Times Female 50 event at the Beverly Wilshire Hotel in Los Angeles. The event will feature a special presentation from Figi, as well as High Times' CEO and President, Kraig Fox, in addition to several notable female CEOs, entrepreneurs, and activists.
The Female 50 awards honor the most influential women across the cannabis landscape, from activists, executives, and scientists, to patients, and politicians. The brand's editorial leadership selected the honorees from a pool of over 7,500 public nominations.
Additional presenters at the 2019 event include Jamie Pearson, President of Bhang, Canadian cannabis industry veteran and 48North CEO Alison Gordon, and Chelsea Leyland, a British DJ and medical cannabis patient and activist. Also, the event will feature an exceptional performance from American R&B legend Macy Gray.
Figi is also the Founder of Coalition for Access Now, a 501c4 nonprofit organization led by families committed to educating the public and lawmakers on the health benefits of natural cannabis therapies for chronic health conditions. After exhausting traditional medical options to treat her daughter's traumatic seizures related to Dravet Syndrome, Figi turned to cannabis as an alternative therapy.
Conducting her research, Figi found a strain of cannabis (now known as Charlotte's Web), that was able to reduce Charlotte's seizures dramatically. Her story has now become one of the most well-known examples of how cannabis can have a life-changing, positive effect as a medical treatment.
Founded in 2014, the Stanley Brothers set out to help Charlotte Figi, whose story kick-started the CBD industry, changed perceptions about the health potential of cannabis, forwarded laws, and inspired significant research. The origin of the CBD movement was ignited by families, veterans, and farmers, desperate for a better way that solutions in nature.
Now, the exploding CBD industry is inspiring the mainstream to consider hemp CBD, the life-changing compound that has been misunderstood for over one hundred years. Hemp CBD can help to support issues like everyday stress, healthy sleep cycles, recovery from exercise and active lifestyles, and more.
Founded by the Stanley Brothers, Charlotte's Web is the market leader in the production and distribution of innovative hemp-based cannabidiol ("CBD") wellness products. The brothers kick-started the CBD industry with "Charlotte's Web," a whole plant hemp-based CBD extract, named for young Charlotte Figi. Her remarkable story was first featured by CNN's Dr. Sanjay Gupta, and has since garnered global attention.
The Company's premium quality products start with proprietary hemp genetics that is responsibly manufactured into hemp-derived CBD extracts naturally containing a full spectrum of phytocannabinoids, including CBD, terpenes, flavonoids, and other beneficial hemp compounds.
Charlotte's Web is a socially conscious company and is committed to using business as a force for good and a catalyst for innovation. The Company weighs sound business decisions with consideration for how its efforts affect its employees, customers, the environment, and the communities where its employees live and where it does business while maximizing profits and strengthening its brands.
The Company's management believes that socially-oriented actions have a positive impact on the Company, its employees, and its shareholders. Charlotte's Web donates a portion of its pre-tax earnings to charitable organizations.
About High Times:
For more than 44 years, High Times has been the world's most well-known cannabis brand – championing the lifestyle and educating the masses on the benefits of this natural flower. From humble beginnings as a counterculture lifestyle publication, High Times has evolved into hosting industry-leading events like the Cannabis Cup and the High Times Business Summit, while providing digital TV and social networks, globally distributed merchandise, international licensing deals, and millions of fans and supporters across the globe. In the world of Cannabis, High Times is the arbiter of quality. For more information on High Times, visit http://www.hightimes.com.
###
Source: High Times