It's been 10 days since the first California Wild Fire started on December 5th with hopes of containing the fires so it doesn't spread more north. Below are the current status of those counties effected by this horrible disaster per Business Insider as of yesterday:
Thomas Fire in Ventura and Santa Barbara Counties: 234,200 acres, 20% containment, 794 structures destroyed, 187 structures damaged out of at least 18,000 threatened.
Skirball Fire in Bel Air: 422 acres, 85% containment.
Lilac Fire in San Diego County: 4,100 acres, 90% contained, 151 structures destroyed and 56 damaged.
Rye Fire in Santa Clarita: 6,049 acres, 93% containment.
Creek Fire in Sylmar: 15,619 acres, 98% containment, at least 30 structures damaged or destroyed, at least 2,500 homes threatened.
Though our Nation's focus has been dealing with countless government scandals, lets not forget about the people in Southern California. They have lost their home or displaced with only weeks before Christmas. It's time for all of us nationwide to acknowledge that the catastrophic Wild Fires are still going and the state of California needs our help.
Below is a list we compiled of ways you can donate towards Wild Fires relief:
Ventura County United Way – THOMAS FIRE FUND
Donate here: https://app.mobilecause.com/f/hjr/n or text 41444
THOMAS FIRE FUND – 100% of proceeds goes directly to the fund. United Way of Ventura County, the American Red Cross of Ventura County and the Ventura County Sheriff's office of Emergency Services have formed a strategic partnership that will be vital in helping the community recovery. Notably, as of right now, the residents of the 150 homes and several apartment buildings that have already been destroyed and the estimated 600 people who are being temporarily housed at the fairgrounds will need our support and resource.
The American Red Cross of Ventura County
The American Red Cross of Ventura County has also set up a way to donate via mobile device by texting REDCROSS to 90999 to make a $10 donation. They can also go to their website, redcross.org, to make a donation of a different amount.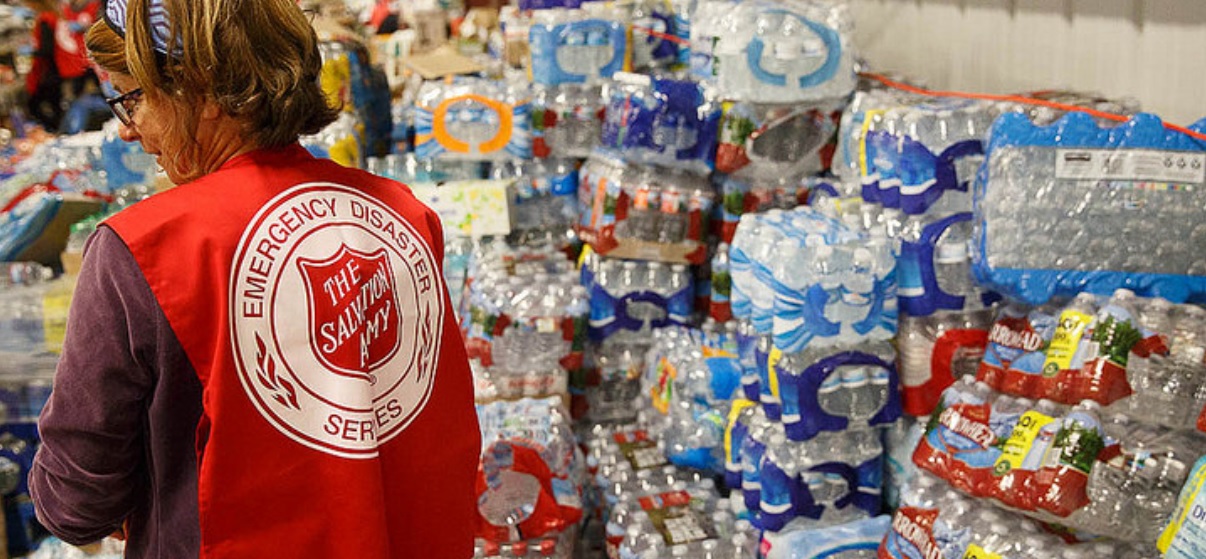 The Salvation Army Ventura Corps
They are asking for donations of food and water for evacuees. They are also accepting toy and clothing donations as the fires have devastated thousands during the Christmas season. Additional Southern California chapters are assisting residents affected by other fires and donations can be made by visiting salvationarmy-socal.org or by calling 1-800-SAL-ARMY.
The Salvation Army will be expanding and shifting its fire relief operations by distributing goods at the Santa Paula Community Center (530 W Main Street, Santa Paula, CA 93060) and opening two Local Assistance Centers (LACs) in the region: one at Poinsettia Pavilion (3451 Foothill Road, Ventura, CA 93003) and another location to be determined. For more information click here.
Humane Society of Ventura County
The Humane Society of Ventura County is in need of donations after taking in more than 300 animals since the fires began Monday. The organization has set up a registry wishlist on Amazon.com with items needed to care for the diverse group of animals currently in its care. Those unable to bring supplies or food to the shelter can make cash donations on HCVC's website.
GoFundMe has created a centralized hub for dozens of verified campaigns aimed at providing help for those affected by the wildfires. If you can't decide which to donate to, there is a Direct Impact Fund listed at the top of the page that supports a number of campaigns connected to the fires. For more information click here.
California Community Foundation's Wildfire Relief Fund
The California Community Foundation's Wildfire Relief Fund supports intermediate and long-term recovery efforts for major California wildfires, as well as preparedness efforts. For more information and to donate click here.
L.A. Kitchen
The L.A. Kitchen nonprofit organization is preparing meals for firefighters and displaced victims. For shift times, check its Facebook page.
Los Angeles County Animal Care Foundation
Donate to Noah's Legacy Fund, which provides supplies, training, and equipment to first responders charged with rescuing animals from areas stricken by natural disasters. Mail donations to P.O. Box 100515, Pasadena, CA 91189-0515 or through the LACACF website.
Our thoughts and prayers go to all the California Wild Fire victims!
###
Source: United Way, Red Cross, Salvation Army, Humane Society, Go Fund Me, California Community Foundation, US Department of Agriculture, LA Times, The Tribune, Noah Berger, Business Insider, LA Kitchen, Los Angeles County Animal Care Foundation