Announced this week, Brunette The Label, a female-founded loungewear collection, partnered with Emma, Sophie, and Nits of the 'That's So Sabotage' podcast to launch a collection inspired by the trio. The new styles include sweatshirts, hoodies, sweat shorts, and sweatpants in three colors.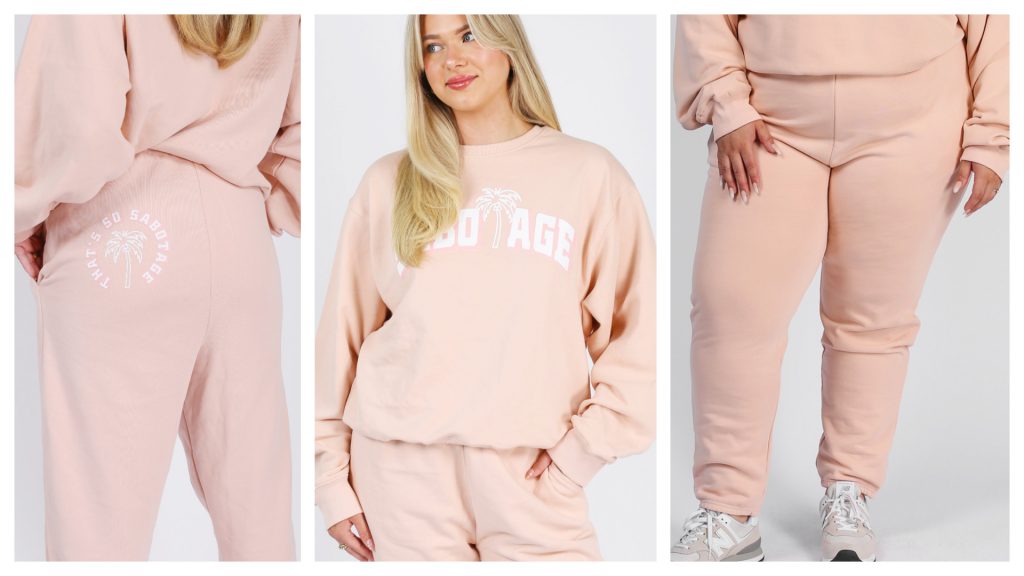 With the overall theme of being cute and comfortable, That's So Sabotage collections consist of the trendiest sweatsuits for even your off-days. The team has been working long and hard on these custom pieces in the coveted Brunette The Label fabrics so that everyone can feel like a stunning queen.
The Best Friend Crew Neck Sweatshirt in Peach Cream, Stunning Queen Sweatshirt in French Vanilla and That's So Sabotage hoodie in grey all feature unique graphics across the chest. Each style comes in a relaxed, slightly slouchy body with a dropped shoulder. The Best Friend sweat shorts and sweat pants have a relaxed leg with a high waist.
Below is the full That's So Sabotage Collection currently available (including pricing):
The That's So Sabotage collection is available now at https://brunettethelabel.com/collections/thats-so-sabotage.
Founded by Miriam Alden in early 2014, Brunette the Label is a clothing brand based in Vancouver, BC Canada. All of their products are passionately designed in Canada by the babes at Brunette Headquarters. Brunette the Label believes the word "babe" is a way of life and strives to create a community that is inclusive of all babes. Inspiring, strengthening, and elevating each other to be the best version of ourselves. To learn more please visit: https://brunettethelabel.com/pages/about-us. #BABESSUPPORTINGBABE
That's So Sabotage is a podcast by Emma, Sophie, and Nits where you can listen in on their private convos, spilling the tea, fashion + beauty advice, and all-things girl talk. In the podcast, they tell their stories on how they've sabotaged themselves through life, the industry, and relationships. Find them on Instagram: @thatssosabotage, @emmaleger, @sophiesuchan & @nitsanraiter.          
###
Source: Brunette the Label, That's So Sabotage