For Badgley Mischka Spring 2022 Collection during New York Fashion Week (NYFW), founders Mark Badgley and James Mischka incorporated colors in lime, lemon, limon, mango, persimmon, and gazpacho for their designs. Even the neutrals have a thread of white in them to give them a milky, smooth glow in salt, mocha, and latte.
"We saw Spring 2022 as a few ideas, starting with our perennial favorite of Bette Davis in "Now, Voyager" – the literal influence of her butterfly cape, and Paul Henreid purring in her ear cannot be resisted," says Mark Badgley and James Mischka.
They further explain "Because we have been so deprived of actual travel, we went back to Mark's favorite childhood memories of sketching Lucille Ball in her heyday – specifically during her and Ricky's trip to Italy. The love of the country and the people comes across and we channeled that into some beautiful, classic but modern pieces."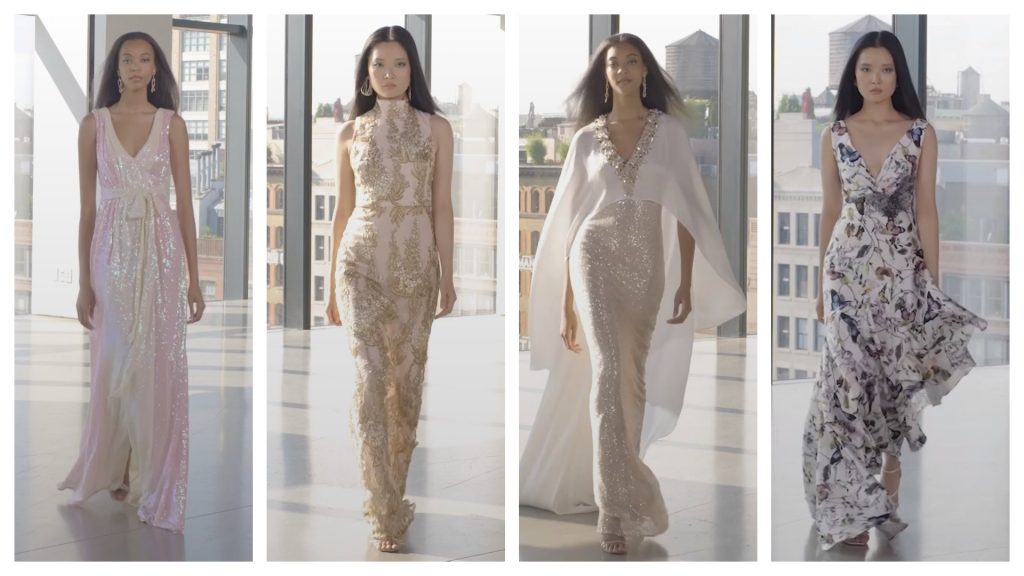 Per the dynamic duo, "The collection has so many different looks and addresses our customers' varied lifestyles – the only thing that remains a constant is the element of glamour. Our goal for Spring 2022 is, as always, to create clothes that make our clients confident, secure, and powerful. Oh, and making them feel and look beautiful is a big part of that as well – probably the most important part. When our customers feel comfortable AND gorgeous – that is when they rule the world."
About Badgley Mischka
Mark Badgley and James Mischka have been hailed by Vogue as one of the "Top 10 American Designers" and as the darlings of the Hollywood set. The design duo has made their mark over the past two decades with glamorous, stylish and wearable evening wear and accessories.
There is a unique synergy between the talented duo, who met while studying at Parsons School of Design in New York. They share a similar aesthetic about clothes and the way people dress. Both men spent time designing for leading names — Mark for Donna Karan; James, the men's collection for WilliWear WilliSmith — before starting their own line.
Mark and James joined forces to launch Badgley Mischka in 1988 and since the beginning Badgley Mischka have captivated the fashion press and prominent retailers around the world with their sophisticated style that caters to a younger, more modern couture customer, without forsaking women of any age. To learn more please visit: https://www.badgleymischka.com/.
###
Source: Badgley Mischka