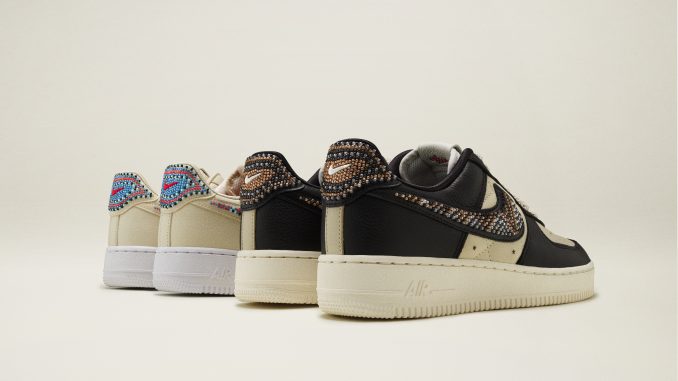 At the end of last week, Premium Goods, and independent sneaker boutique in Houston, and Nike, the global sports brand launched a new sneaker collection at an event in Houston. Reimaging the design of the iconic Air Force 1's, the Premium Goods x Nike AF1 draws inspiration from designer Jennifer Ford's love for and past work in jewelry.
At the event, Premium Goods and Nike announced the Bella and the Sophia Air Force 1 styles. Attendees included rapper Bun B and local fashion industry moguls who had a chance to get a first look at the two new Bella and Sophia Premium Goods x Nike AF1 designs.
Ford created the new designs through the lenses of classic and timeless luxury blending textures, incorporating artisanal techniques, and sharing elegant color stories. They are a celebration of timeless connection and pieces that immediately becomes a heirloom the moment you bring it home.
During the event, Jennifer Ford was also honored with a city proclamation from Houston. The event was presented by Diageo and its brands CÎROC, Crown Royal, Tequila Don Julio, Baileys, and Seedlip.
Both Bella and Sophia are available 1/31/2023 at 9:00 AM. To shop the Bella Premium Goods x Air Force 1 shoes for $150.00 visit: https://www.nike.com/launch/t/dv2957-200-womens-air-force-1-low-na-only.
To shop the Sophia Premium Goods x Air Force 1 sneaker for $150.00 here: https://www.nike.com/launch/t/womens-air-force-1-low-premium-goods-the-sophia.
Premium Goods has established itself since 2004 as a go-to destination for those who share a passion for style and sneaker culture. Established by in Houston, Texas by Jennifer Ford, the Stylish store supplying big-name sneakers & shoes plus a selection of apparel & accessories. To learn more please visit: https://premiumgoods.com/pages/the-shop.
Designed by Bruce Kilgore and introduced in 1982, the Air Force 1 was the first ever basketball shoe to feature Nike Air technology, revolutionizing the game and sneaker culture forever. Over three decades since its first release, the Air Force 1 remains true to its roots while earning its status as a fashion staple for seasons to come. To learn more visit: https://www.nike.com/air-force-1.
###
Source: Premium Goods, Nike Air Force 1