Today during Samsung's CES 2021 press conference, the consumer electronic company unveiled the Samsung Bespoke 4-Door Flex refrigerator, JetBot 90 AI+ robotic vacuum, SmartThings Cooking service, 110-inch MICRO LED, Samsung Health Smart Trainer, and Galaxy Upcycling at Home plus announced their expansion of eco-packaging for TV products in 2021. Below are details of each Samsung product announced at CES.
Samsung Bespoke 4-Door Flex: The latest version of the Bespoke refrigerator features changeable panels that come with a choice of colors and materials that made the original a success, allowing consumers to adjust their fridge for form and function. The new 4-Door model, available in North America this spring, also includes a brand-new Beverage Center™, which gives quick access to a water dispenser and an automatically-filled water pitcher. The 4-door Bespoke also comes equipped with a Dual Auto Ice Maker which makes not only regular cubed ice but also smaller 'ice bites' to suit different preferences for cold beverages.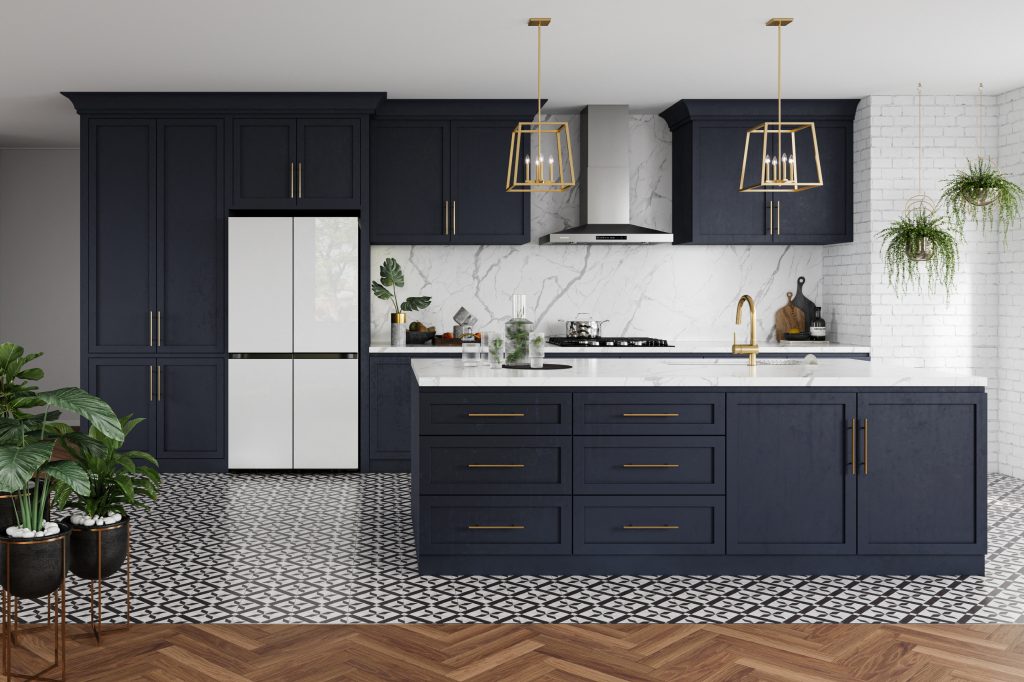 JetBot 90 AI+: Coming to the US 1H 2021, this new vacuum cleaner uses object recognition technology to identify and classify objects to decide the best cleaning path. LiDAR and 3D sensors allow JetBot 90 AI+ to avoid cables and small objects, while still cleaning hard-to-reach corners in your home. Also outfitted with a camera, JetBot90 AI+ is integrated with the SmartThings5 app to assist you with home monitoring.
110-inch MICRO LED: This new screen features self-lit inorganic LED with a slim and nearly bezel-less Infinity Screen design that seamlessly blends into the living space. The result is a spectacularly immersive viewing experience with astounding picture quality. The 110-inch MICRO LED also adds "4Vue" (Quad View), a four-way viewing option—so you can keep up with multiple sports at once, or stream a tutorial while playing a video game. Also, for US consumers, more than 160 free channels1 are available through Samsung TV Plus. MICRO LED will be rolled out globally beginning this spring2.
SmartThings Cooking: A new service from Samsung SmartThings is designed to make your culinary journey seamless. An automatic Meal Planner powered by Whisk's Food AI recommends meals for the whole week, makes shopping lists with the ingredients you need, and connects to grocery retailers for one-stop shopping straight from the Family Hub™ refrigerator or your mobile screen. Recipe instructions can be sent directly to synced Samsung cooking devices to minimize hassles and mistakes3.
Lifestyle TV: Samsung's cutting-edge lifestyle TV lineup includes The Serif, The Frame, The Sero and The Terrace—a recently launched 4K QLED outdoor TV—as well as Samsung The Premiere, a cinema-like quality 4K laser projector.
Samsung Health Smart Trainer on Samsung 2021 TVs: Samsung Health seamlessly transforms the home into a personal gym, and the new Smart Trainer4 feature tracks and analyzes posture in real-time, just like a personal trainer. During and post-workout, Smart Trainer provides feedback on form, helps you count your reps, and estimates calories burned. With video and interactive training via Bixby-enabled voice control, Samsung Health Smart Trainer elevates and personalizes the home workout experience.
Galaxy Upcycling at Home: At the event, Samsung announced an update to its Galaxy Upcycling program called Galaxy Upcycling at Home. The new program reimagines the lifecycle of an older Galaxy phone and offers consumers options on how they might be able to repurpose their device to create a variety of convenient IoT tools.
TV Eco Packaging: Additionally, Samsung announced that its eco-packaging would expand to QLED, UHD TV, monitor, and audio products in 2021. As part of an ongoing commitment to eco-consciousness, Samsung is creating products and solutions with sustainability at the core. For example, Samsung's new Solar Cell Remote Control—made in part with recycled plastic—can be charged via solar or indoor lighting, reducing battery waste.
To learn more about Samsung at CES 2021 please visit: https://samsungnews.fabl.co/ces2021.
###
Source: Samsung, CES